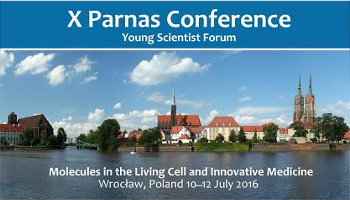 It is our great pleasure to announce
the X Parnas Conference 2016,
to be held in Wrocław, Poland,
from July 10th – 12th,
with Prof. Ada Yonath, Nobel Laureate.
This year's jubilee X Parnas Conference is aimed at encouraging young scientists to share their ideas and achievements in innovative medicine and all other aspects of molecular biology.
The list of thematic sessions can be viewed at http://parnasconference.edu.pl/scientific-programme/.
Abstracts for consideration can be submitted at http://parnasconference.edu.pl/register. Submissions must be original and conform to the rules of Acta Biochimica Polonica http://www.actabp.pl/#Preparation_of_Manuscripts. All submitted abstracts received will be reviewed on the basis of scientific merit and novelty. The accepted abstracts will be published in Acta Biochimica Polonica.
DEADLINE FOR ABSTRACT SUBMISSION: 30th April, 2016
Registration to the conference also includes:
Conference materials (including the abstract book with the conference programme),
Welcome reception ('get-together'),
Coffee breaks,
Accommodation (two nights in one of the dormitories: Ołówek or Kredka),
Certificate of attendance,
Publication of abstracts in a special issue of the Polish journal Acta Biochimica Polonica.
We look forward to welcoming you at the X Parnas Conference 2016, Wrocław, Poland!
Sincerely yours,
Organizing Committee